Hi Everyone
I'm so pleased to be back with you.  Today I am going to show you three very different ways to use each of the Nuvo pens and the hugs die.  Let's take a look at the projects first of all:
Let me take you through each card and how I made it, let's start with the Kraft one:
I stamped the Hugs stamp using the Nuvo white embossing powder on black cardstock and heated it.  Then I used the Nuvo glitter markers to color in each of the areas, they really pop well on the back. I then used the coordinating die to cut it out.  I used foam tape to pop it up on the back.  The card front is half a piece of 8.5″ x 11″ that I used the card builder die to shape the front, so that it has that curved look.
Next we can look at the ombre card:
For this one I first stamped out using the black embossing powder and heated it.  I used the two shades of aqua flow purple, I did the bottom in the dark and the top in the light, I also used the lighter color to 'pull' up some of the dark purple to create the third shade.  Again I cut it using the coordinating die in the set and used foam tape to give it dimension.  On the card front I trimmed 3/4″ on the front side and put a 1.5″ purple piece  aligned with the card edge on the back which is what you see on the right side from the front.
Finally I have the window card to show you:
For this one I first of all added a piece of black to my card front and cut out the Hugs die, make sure you run the card through your Tangerine machine with it open, otherwise you will cut all the way through! Then I closed the card up and aligned the hugs stamp in the my Tim Holtz platform, pick up the stamp on the rubber side and now open the card before you stamp down, then your hugs will be on the inside of the card.  I then colored it in using the brush script markers and added some Nuvo accents to some of the areas.
These cards are all very easy, I made all three in around 40 minutes! I love ways to stretch my supplies to give different effects with the same stamps and dies.  Here's a complete supply list: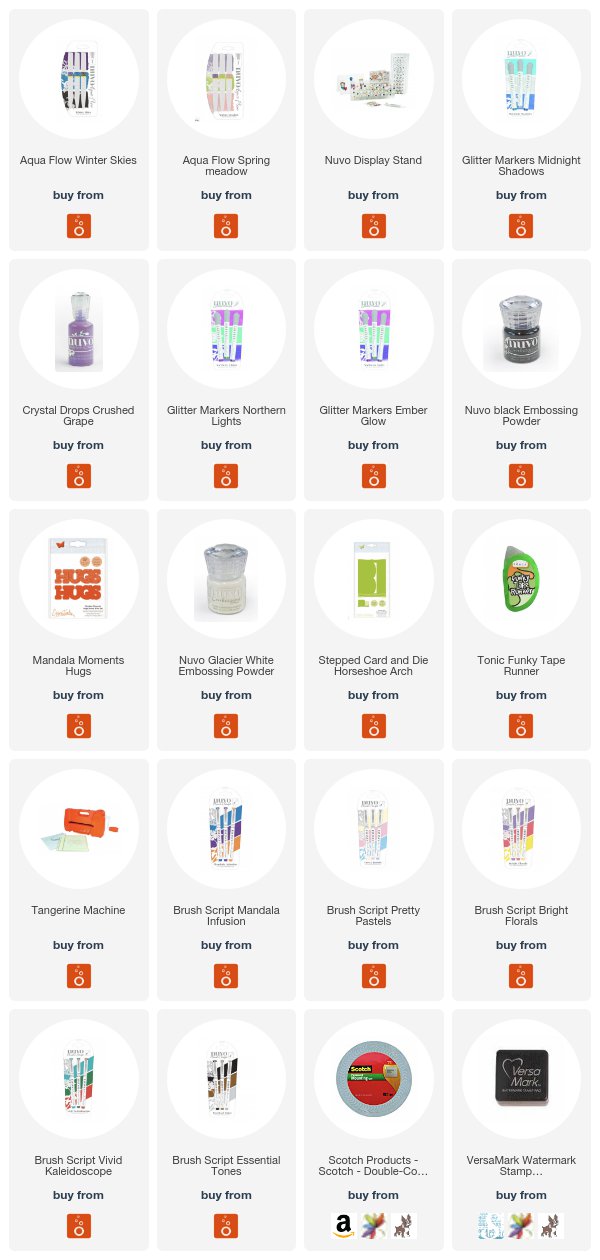 Thanks so much for stopping by today, join me and my fellow design team members throughout the month for more inspiration and also stop by my blog at the Hollow for even more ideas!
Happy Stamping!
Alexandra